original article here @ ESPN 
FAYETTEVILLE, Ark. — Darren McFadden isn't sticking around for another run at the Heisman Trophy.
The Arkansas All-American announced Monday he'll skip his senior season and enter the NFL draft.
"When I was growing up, I dreamed of playing for the Razorbacks," McFadden said. "Now, the time has come for me to pursue another dream of mine — playing in the NFL."
McFadden was the Heisman runner-up in 2006 and 2007, so his decision to turn pro wasn't surprising. He ran for 1,830 yards last season, second on the Southeastern Conference's single-season list. He is also second on the career list with 4,590 yards rushing.
Felix Jones, the Razorbacks' other talented tailback, said he'll also enter the draft a year early.
McFadden rushed for over 1,000 yards all three seasons at Arkansas. Jones did it the last two. They were part of a backfield that also included senior fullback Peyton Hillis, another NFL prospect.
Now Arkansas will have to rebuild under new coach Bobby Petrino.
McFadden's decision comes a week after he was involved in a "pretty rowdy scene" at a piano bar in Little Rock, when he was handcuffed by police and then released without charges. In the summer of 2006, he severely injured his toe in a fight outside another club, but recovered in time to play in the season opener.
Draft eligible

Who's decided to leave college before their senior season to enter the NFL draft? Here's the list.
Late in the season, a local television station reported that sports agent Mike Conley, a former track and field star, had arranged for McFadden to purchase a Cadillac Escalade. The station subsequently backed off the report, and McFadden termed the story "uncalled for."
Conley is not certified to represent NFL Players, the NFL Players Association confirmed for ESPN.com on Friday. The players union is the body which accredits agents and Conley, who applied for certification last year, apparently did not meet the requirements. Conley cannot become certified before the draft.
McFadden holds Arkansas' career and single-season rushing records.
McFadden, from Little Rock, made an immediate impression in 2005. He ran for 1,113 yards and was chosen SEC freshman of the year. In 2006, he led Arkansas on a 10-game winning streak and was second in the Heisman race to Ohio State's Troy Smith.
It was during that season that the Razorbacks began using McFadden in the shotgun at quarterback — he could run, throw or hand off to Jones.
McFadden spoke first at a joint news conference Monday. Then it was Jones' turn.
"I guess that'll be the last handoff from D-Mac," said Jones, a second-team All-American as an all-purpose player.
This season, the Razorbacks lost their first three SEC games but rebounded late. They beat then-No. 1 LSU in the regular-season finale. McFadden ran for 206 yards and three touchdowns and also threw for a touchdown in Arkansas' triple-overtime 50-48 win.
[+] Enlarge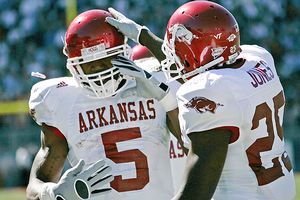 AP Photo/Rogelio V. Solis
Arkansas tailbacks Felix Jones (25) and Darren McFadden (5) accounted for a chunk of Arkansas' offense.
McFadden also tied an SEC record with 321 yards rushing in a November win over South Carolina. He figures to be one of the first players taken in the April draft.
"I just want to go play in the NFL," McFadden said. "Whether I went No. 1 or dead last, it'll be the same feeling for me."
McFadden and Jones join an impressive group of running backs in this year's draft, including Central Florida's Kevin Smith, Michigan's Mike Hart, Rutgers' Ray Rice and West Virginia's Steve Slaton.
Jones said he filed paperwork asking the NFL to project where he might be picked.
"I got it back and it was first round," Jones said. "I was pretty confident when I got my report back in making my decision."
McFadden's prospects were more clear cut. He struggled a bit in October last season but still did enough to finish second to Florida's Tim Tebow in the Heisman race.
The 6-foot-2 McFadden overwhelmed college defenses with both his speed and power. Jones, on the other hand, was effective because of his ability to change direction. Jones was also one of the nation's top kick returners.
Each tailback made the other more dangerous. McFadden, the bigger star of the two, acknowledged that.
"Without Felix being in the backfield beside me, it would have been easier for a defense to just key down on me," McFadden said. "I feel like without him, some of these things would not have been possible — and I may have been looking to come back for a senior year."
Arkansas will retain one of its top juniors. Center Jonathan Luigs, another second-team All-American, is staying with the Razorbacks.
Still, Petrino will have to replace several key offensive players. In addition to the three running backs, Arkansas also loses senior wide receiver Marcus Monk.
Monk, the school's career leader in touchdown catches, passed on the draft to play his senior season. He then hurt his knee during fall practice and caught only 16 passes.
Jones acknowledged that he was concerned about the potential for injury if he came back.
"Anything can happen when you get on the football field. It's a high-risk, collision sport," Jones said. "We have a good opportunity right now. We just, like I said, want to take advantage of it."